Kgotsong township gets new tennis courts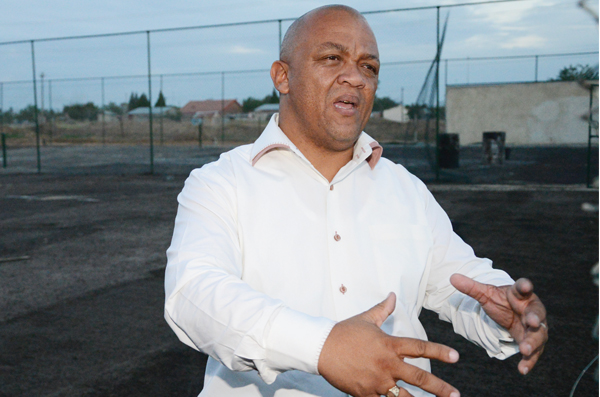 Residents of Kgotsong Township in Bothaville are enthusiastically looking forward to the completion of the tennis court in the area.
The construction of two new tennis courts with ablution facilities, administration block and grand stands is expected to be completed by the end of this month, and the Nala Local Municipality municipal manager, Chris Mokomela, announced that the facility will be opened to the public soon.
During inspection of the courts earlier this week, Mokomela stated that the municipality embarked on the project in response to the needs of the community.
"We hope the construction work will be completed on time so people can start making use of this facility. I would, however, like to plead with the people not to vandalise it when they are aggrieved with anything because it is for the benefit of their children and the future of the township," said Mokomela.
He added that the municipality is currently upgrading the sports park that is designed to cater for different sporting codes.
"The refurbishment is already underway. We are also bringing down the old tennis court next to new sports park, which is in a state of disrepair."
"Another of the municipality's priorities is to strengthen our partnerships with the SAPS and CPFs, with a view to reducing youth involvement in crime. These partnerships have already proved their worth by contributing immensely to the reduction of crime levels here," concluded Mokomela.
Local residents are eagerly awaiting the advent of spring in August to start using the courts and fine tune their tennis skills.
"We have kids that are growing up and will appreciate making good use of the courts. Since the sport is not for youngsters only, even we old-timers will enjoy spending our weekends there stretching our muscles," said community member, Motlalepula Mokoena.
The commencement of the project earlier this year has encouraged young people to become professional tennis players.
"I am not a tennis player because I am too old to play tennis or any other sport that requires strenuous physical exertion, but many people – especially our children who are enmeshed in crime – will benefit from this development. I wish that the municipality could also consider refurbishing the sports ground as that would be of great help too," added Mokoena.
His 12-year old son, Papiki, said he would like to be a professional tennis player one day.
"I want to play tennis and I want to be professional like the tennis stars I see every day on TV," said Mokoena junior.